Even without the wall-to-wall media coverage, it feels like the whole world has been in mourning today for David Bowie, who passed away aged 69 after an 18-month battle with cancer. Figures from across the musical world, from Tony Visconti to Iggy Pop and from Brian Eno to
Madonna
, have been paying tribute to one of the single most influential artists of the 20th century.
Nash Bozard
, of
Radio Dead Air
fame, posted a particularly
heartfelt message on Facebook
, arguing (with some weight) that in 200 years' time Bowie would be as highly regarded as Mozart.
For me, Bowie remains one of my favourite artists. Long before I discovered The Who and Pink Floyd, I loved him far more than the likes of The Beatles and The Rolling Stones: he balanced being weird, strange and off-piste with a talent for great songwriting, something which I feel John Lennon never did. I've been revisiting some classic tracks today (my favourites being 'Ashes To Ashes' and 'Julie', for very different reasons), and will probably marathon his back catalogue at some point to ease the heartbreak. And, like many others who've posted up their thoughts or gathered in Brixton to pay their respects, my thoughts have also turned to the numerous film appearances which Bowie has left behind, some of which I got the chance to explore in detail during my appearances on
Lionheart Radio
's
The Movie Hour
.
Like his musical career, Bowie's filmography is a fascinating document of self-confident risk-taking. Even his biggest fans would struggle to defend every single choice that he made:
Just a Gigolo
is just plain terrible,
Yellowbeard
is a tragic mess and
Arthur and the Invisibles
was far too derivative. But Bowie never settled inot playing a specific, limiting range of roles, like Marlon Brando did in the later part of his career. He deliberately sought to wrong-foot his audience, and when it worked, he was utterly mesmerising. If Jessica Harper is widely considered to be the queen of cult films -
Phantom of the Paradise
,
Suspiria
,
The Blue Iguana
,
Shock Treatment
- then Bowie is a worthy candidate to be the king.
There are any number of films in which Bowie appears which would make for perfect viewing at this tricky time.
Labyrinth
provides a sense of comfort and childlike wonder, even amongst all the tight trousers and bizarre
Don Quixote
references.
Into The Night
sees him stand out in an indulgent yet fun cameo-fest, with John Landis giving him the room to make a bit part into a who lot more. His Andy Warhol is one of the highlights of Julian Schnabel's otherwise insufferable
Basquiat
, as he delivers a performance which is both goofy and eerily accurate towards his late friend. In
The Last Temptation of Christ
, he goes toe to toe with a career-best
Willem Dafoe
, delivering a Pontius Pilate of multiple intriguing layers. And in
The Prestige
, he began with one of the coolest entrances of the last decade and kept on climbing from there.
But for me, like many others, the definitive Bowie performance came in his first and arguably only leading role, as Thomas Jerome Newton in Nicolas Roeg's
The Man Who Fell To Earth
. When I reviewed the film some five long years ago, I admitted that it had problems: it's indulgent, slow-moving, makes little sense on a literal level and is something that, for reasons good and bad, could only have been made in the 1970s. But beneath its bizarre storytelling and often disturbing imagery, there's a powerful story about the destructive effects of materialism and self-interest. There's something about Roeg's film, and Bowie's performance in it, that is simultaneously accessible and out of reach: we can understand Newton's plight, but never fully get a handle on him, and that's what makes him so appealing and compelling to this day. Critics often attacked Bowie for just playing himself in films; ironically, the role which most reflected his state of mind at the time is also the most believable character he would ever embody.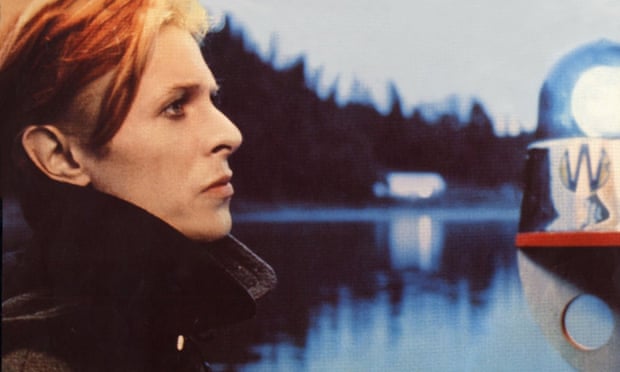 You can track down
The Man Who Fell To Earth
on DVD pretty easily, though you will need to have patience to give it the treatment it so richly deserves. You can hear me talk more about the film on
The Movie Hour
podcast
here
, in addition to episodes on
Into The Night
and
Labyrinth
. Suffice to say, I'll be getting my hands on a copy of
Blackstar
as soon as I can, and shall leave you with this dolorous yet darkly funny track, which closed Bowie's self-titled debut album. RIP.
Daniel