For the second time this month it is time for me to pause and mark the passing of a talented entertainer. This time it is Bill Wallis, one of England's most-loved character actors, who passed away two days ago aged 76, following a long battle with multiple myeloma.
For people of my generation, Wallis was probably best known for his performances in the various series of
Blackadder
; he played a drunken knight in
The Black-Adder
, Ploppy the Jailer in
Blackadder II
, and Agent Brigadier Sir Bernard Proudfoot-Smith in
Blackadder Goes Forth
. Wallis brought a lot to the show, playing nicely off Rowan Atkinson through his big presence and great comic timing.
But there was more to Wallis' career that a few minutes with Messrs. Curtis and Elton. In the 1960s he rubbed shoulders with Beyond the Fringe, whom I mentioned in my
David Frost obituary
some weeks ago. When their stage show transferred to Broadway, Wallis filled in for all the parts played by Alan Bennett, and later appeared with Peter Cook and Dudley Moore in their TV series
Not Only... But Also...
. He also appeared in the first
ever episode of
Midsummer Murders
, driving a Morgan sports car - a role which required the crew to push the car, on the grounds that he didn't have a driving licence.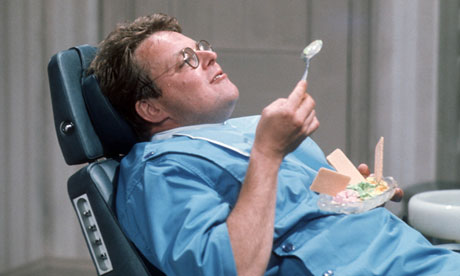 Some of Wallis' best work was done on stage and on radio. He was the original voice for Prostetnic Vogon Jeltz in Douglas Adams'
The Hitchhiker's Guide to the Galaxy
, and was one of the recurring cast members on
Week Ending
, where comedian Stewart Lee cut his teeth. On stage he appeared in the original production of Andrew Lloyd Webber's
Jeeves
, and in later life received acclaim for his roles in
King Lear
and
Much Ado About Nothing
.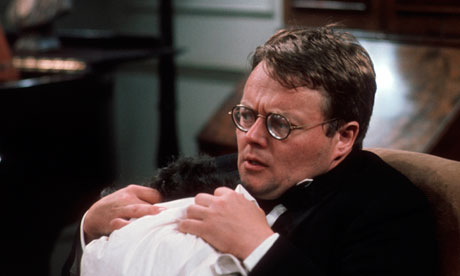 Bill Wallis was a very fine character actor who brought great presence to almost everything he did. Should you wish to pay tribute in your own way, I recommend the
Blackadder Goes Forth
episode 'General Hospital' or his appearance in
Not Only... But Also...
, which you can watch below. RIP.
Daniel