Today's Letter of Note concerns Samuel Johnson,
author of
Rasselas
and creator of the world's first dictionary. More specifically, it concerns Johnson's anger at other people trying to take credit for his work.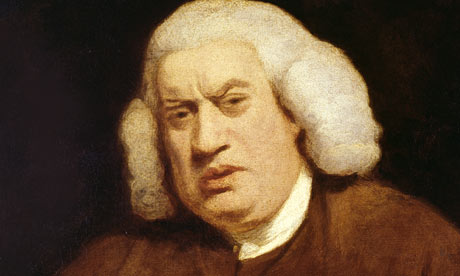 Johnson took eight years in total to write his dictionary, but it took him a year to secure a patron in the form of Lord Chesterfield. Chesterfield pledged £10 towards Johnson's living costs, but offered little else in terms of support until the great work came out. Upon its publication, Chesterfield wrote two anonymous, highly positive reviews which sang his own praises while overshadowing Johnson's historic achievement.
Angry at Chesterfields's blatant opportunism, Johnson wrote a strongly-worded letter to his patron. It became a classic in its time, and can be read in full
here
. Nonetheless, I dare say Chesterfield was easier to deal with as a patron than his counterpart in
Blackadder the Third
:
Daniel