Today came the sad news that Mel Smith, one half of the comic partnership Smith and Jones, has died at the age of 60 following a heart attack.
Growing up as I did in the 1990s and 2000s, I probably missed out on Mel Smith when he was in the prime of his career. While I'm very conscious of the influence of
Not The Nine O'Clock News
on British comedy, I never got the chance to experience the brilliant darts sketch first hand. Like Peter Cook's early-1960s work, those sketches are very much of their time, but my familiarity with Cook's work is far greater than my knowledge of alternative comedy.
Despite this, I've always had a soft spot for Smith as a creative force. He and his partner Griff Rhys Jones are largely responsible for
Morons from Outer Space
, one of Mike Hodges' most overlooked films and a genuine cult classic. He was impressive as Inspector Flint in the TV movie of
Wilt
, based on the novel by Tom Sharpe (who also passed away recently). And
Bean: The Ultimate Disaster Movie
remains a very admirable attempt to put Rowan Atkinson's iconic character on the big screen. It's not Jacques Tati, but in moments it comes really close.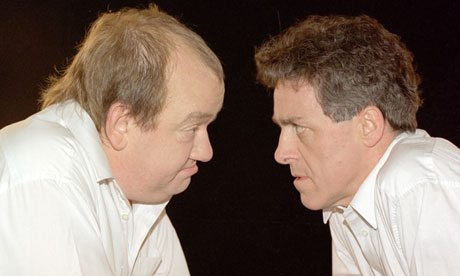 If you want to honour Smith's memory, I recommend revisiting
None The Nine O'Clock News
, including the famous darts sketch linked below. If you're unable to track down
Morons from Outer Space
, you could also keep an eye out for his brief supporting role in
The Princess Bride
. RIP.
Daniel