My second recent post derived from Letters of Note concerns one of my all-time favourite actors, Richard Burton. More specifically, it concerns his rollercoaster relationship with Elizabeth Taylor, whom he married and divorced twice.
As a couple, Burton and Taylor were as celebrated in their day as Brad Pitt and Angelina Jolie are today. But while Brad and Angelina have only appeared on screen together once (in
Mr. and Mrs. Smith
), Burton and Taylor collaborated through the 1960s, and their on-screen appearances did nothing but fuel the fires of speculation about their tempestuous private life.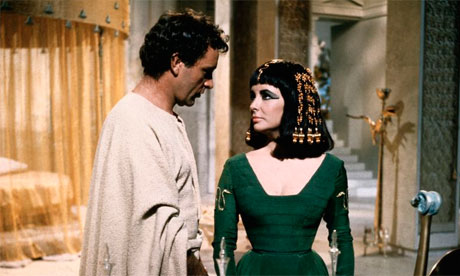 In 1973, after nine years of marriage, Taylor gave Burton his marching orders and filed for divorce. Burton's response, which you can read in full
here
, is as wildly varied as their marriage, with a tone ranging from pitiful, to threatening, to mournful, to philosophical and all of the above. Reading it, it comes as no surprise that the two got back together just 16 months later - and then divorced again just 9 months after that.
To see Burton and Taylor at the best (at least, in their appearances together), check out Mike Nichols' brilliant version of
Who's Afraid of Virginia Woolf?
. You can watch the trailer below:
Daniel
P.S. For more on
Who's Afraid of Virginia Woolf?
, check out my review of
Carnage
here
.